FullHouse is a Texas bluegrass band that is deeply rooted in bluegrass music. While Full House remains true to the foundation of bluegrass they also explore their creative sound in with their own unique style that blends a contemporary feel to traditional bluegrass. FullHouse also uses this unique style in covering many different genres of music with their "grassed up" Texas flavor such as classic country, folk and Americana. FullHouse is also committed to writing original music inspired by their own life experiences. You will find each song arranged with vocal harmony and instrumentation that blends traditional music in a contemporary acoustic style.

Full House is much more than just another bluegrass band. They are a band with a powerful message. Music has always been a part of the lives for founding members Rick and DeAnn Spence, it took on a much different role after the tragic loss of their oldest son in 2007. Rick was inspired to seek comfort through music. Music also provided comfort and healing for DeAnn, their family, their friends and many, many others.

The journey of music has lead FullHouse to use their gift of music to give back to many others through their involvement with great organizations that serve others with the healing power of music. FullHouse is actively involved with Music Is Medicine Foundation and the children's hospitals they serve. FullHouse was featured in the launch documentary and event for the LiveWright Society to "Pay It Forward" at the House Of Blues in Dallas.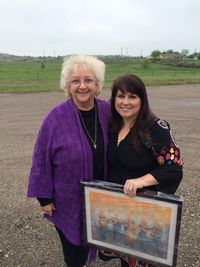 A Story Of Healing
If we make ourselves open for God to use us, He will use us in the most amazing and miraculous way. He will also cross our paths with people that need grace and love the same way that God gives it to us. On Easter Sunday, 2015, DeAnn and Rick were presented a gift of love from
Christine Cates
. She is a talented artist and one of the sweetest souls you will ever meet. Check out the story of this incredible gift of love by clicking this link.
http://catesart.com/texas-life-painting-back-st…/full-house/